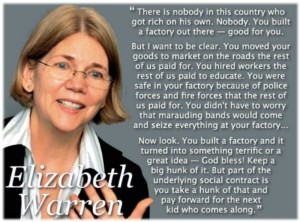 This quote by Elizabeth Warren shown in the picture floats around the Internet every so often, touted by many as some sort of great wisdom. But if we break it down, we find that it isn't quite the benevolent quote many take it to be. So let's take a look at my version of what Elizabeth Warren "really" said.
There is nobody in this country who got rich on their own. Nobody. You built a factory out there – good for you. I can say this because I've never started or ran a business myself.

But I want to be clear. You moved your goods to market on roads that were paid for with money forcibly confiscated from the people. You hired workers that were educated in a forced monopoly system which is paid for with money seized from the people. You were safe in your factory because of police forces and fire forces that are paid for with money forcibly extracted from the very people they protect. You didn't have to worry that marauding bands would come and seize everything at your factory … unless you're counting your own government.

Now look. You built a factory and it turned into something terrific or a great idea – God bless! Keep a hunk of it. Because I know better than you just how much of your own money you should be "allowed" to keep. Part of the underlying social contract – that you never agreed to – is that people like me forcibly confiscate a hunk of the wealth you gave your blood, sweat, and tears to create and give it to the next kid who comes along – so they can have their wealth forcibly confiscated too.
Doesn't sound so wise now, does it? Another thing that is really, um, "interesting" about her quote is that she says "the rest of us", as if business owners didn't pay taxes for all the things she talks about. If in fact all that taxes actually paid for were those things, we'd be talking about tiny little slivers, instead of hunks. But instead they often pay for politicians' pork projects, making those who exert influence on the government rich. So maybe she is right. Nobody gets rich on their own – they need a politician's help for that!