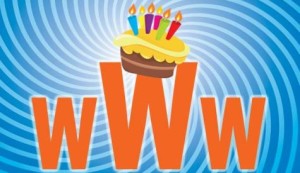 A lot of news stories circulated yesterday celebrating "the birthday of the Internet". I'm about to get a little nitpicky here, but guess what, it's my blog so I can do what I want. If anything, March 12th can be considered the birthday of the World Wide Web, but the Internet has been in existence in various forms since 1969. So for technical correctness, please stop saying this is the 25th anniversary of "the Internet". I know that for many of us, the web – for all practical purposes – IS the Internet, but let's try to be just a little historically correct, shall we?
That being said, I'm about to get even more nitpicky. March 12th, 1989 is the date that Tim Berners-Lee first put forth a proposal to his employer, CERN, for developing a new way of linking and sharing information over the Internet (just to reiterate my point above, the Internet had to already BE in existence in order to create a World Wide Web). However I feel it is a stretch to say that this proposal, while it was the genesis of the World Wide Web, is the actual birthday of the web. This proposal put forth the very basic ideas that would grow into the web. However, if one reads the proposal, it is much more of a request to research the feasibility of such a system and to develop a future plan to implement such a system. In fact, at the end of the proposal, Berners-Lee specifically calls out that a second phase would be required to set up a real system at CERN. To boot, this proposal was never actually officially accepted, but Berner-Lee's boss allowed him to work on it as a side project.
So what do I consider the real birthday of the World Wide Web? It's hard to say specifically, but here are some important dates:
Now, I'm not going to argue much with the people behind the Web at 25 movement, since Tim Berners-Lee himself is supportive of this project, even thought I might disagree with the particulars. They say he "invented" the web in 1989, but that's like saying Edison invented the light bulb before he actually got it working. It's one thing to come up with an idea, it's another to actually make it reality. I still say that the "invention" or "birth" of the World Wide Web took place in late 1990/early 1991 as the dates above show. But if people want to celebrate the idea that the web was born on March 12, 1989, that's fine, especially since the man who created it isn't arguing. In my research as a technology historian, I know that many dates in history are hard to pin down exactly, especially when it comes to technology development. In fact, the dates I list above may not be entirely accurate depending on how people define technology releases and which source is claiming what. So at least March 12, 1989 does point to written documentation of the first reference to the project that would eventually become the World Wide Web. But please, at least call it for what it is, not "the birthday of the Internet".